On Friday, a face-to-face orientation was hosted by SIC Student Service Team, where 60 new enrolling students attended this program. Skyline College's Student exciting orientation started sharply at 9 am and continued till 12 pm. It was filled with induction information, educational workshops, lectures, assessment, and engaging Q&A periods, like tips on how to make a successful career. Students logged in to their respective online portals depending upon their batch and stream. Cookery students logged in to Didasko, and the rest accessed eSpace. COVID-19 protective measures were taken to safeguard every student.
SIC delivered a personal and engaging orientation to onshore international students from different countries. The institution has adopted a wide range of resources of technology for preparing new learners for success in courses and programs on the platform of Skylin with featured programs such as Induction Information and RTOM Session. The incoming students were keen to know more about courses like automotive, IT, business, and cookery.
SIC Community serves a culture of the championship and conducted orientation with an aim to give an exemplary rich experience to new students for their better future and growth.
SIC Orientation was smooth and easy to set up and follow through the following guide.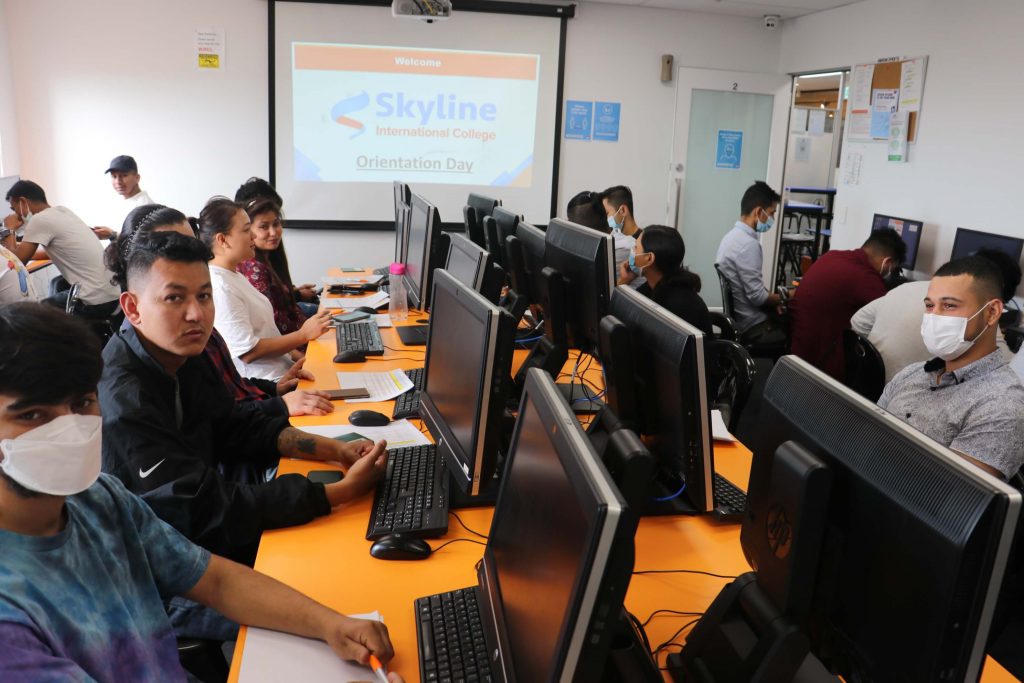 SIC- New Student Orientation
All new students were emailed a welcome invitation letter around two weeks before the event. Orientation is beneficial to students and is mandatory for course commencement.
New Student Orientation Schedule
Take a peek at what exciting presentations you can expect to see at the event.
9:30 to 10:00 AM
Students checked in the reception room to complete the admin process where student support officers were present to guide and check the details of the student's id form, attendance sheet, full course timetable, and verification process.
10:00 to 10:30
The opening session was started sharply at 10:00 clock in room no 4 by the academic manager on college policies and procedures, immigration requirements, attendance, academic, and other relevant topics. The hospitality coordinator and academic manager successfully clarified student's queries and guided them with a timetable to attend to them. For any query, students were provided with all staff contact lists.
10:30 to 10:45
In-room 4 students support officers conducted student surveys for orientation feedback and agent performance.
10:45 to 11:30
Orientation and presentation were conducted by student staff officers in room no 4 on Search Forgotten USI, accessing for RTO manager using student portal, presentation on info train eSpace LMS system and how to use and access online eSpace and what are the 25% benefit of online learning.
11:30 to 12:00
Finally, the refreshment break started at 11:30 in reception by student support officers where id proof of latecomers was recorded and hand out on skyline promotional activities were performed to make sure all the surveys and forms are complete. A t the last USI recorded and photo ID taken.
Download to your mobile or desktop device
Download the software in advance! A virtual software platform used by Skyline College for Orientation, class lectures, course assistance, and much more. Students followed Didasko, eSpace, e-mail login, RTO login, etc. Students logged in according to their respective batch and stream.
Complete the Feedback Survey
This quick 10-minute survey was offered for great feedback on how we can improve the event for years to come.
Feedback
After the completion of orientation, students were instructed to give surprising feedback.
Last but not least students were offered a pizza party after the completion of orientation. SIC facilitator thanked all students for sharing their time and ask them to "coordinate with each other, to enter the exciting journey with new friends.